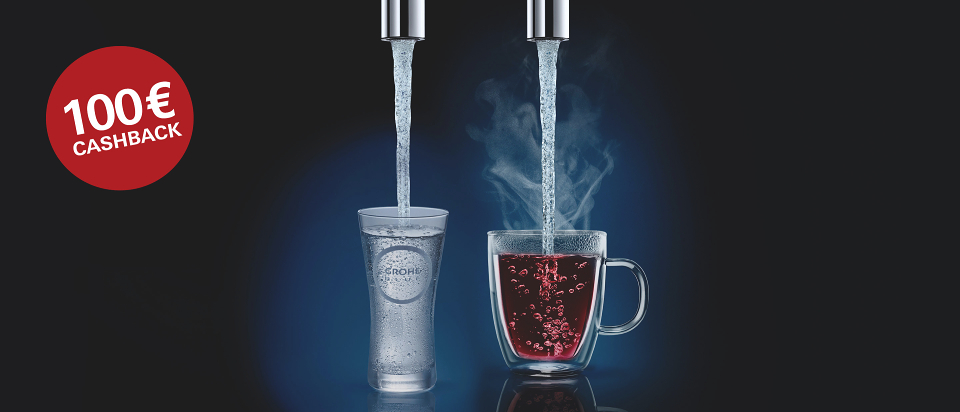 €100 Cashback on GROHE Red and GROHE Blue
Perfect taste straight from the tap with unbottled water by Grohe Blue Home and kettle hot water on demand by GROHE Red. GROHE Watersystems are designed to look beautiful in your kitchen.
Purchase your qualifying GROHE Red or GROHE Blue from a retailer and complete the cashback claim form below.
Offer on purchases made from 1st August 2018 until the 31st January 2019. All claims must be made by the 28th February 2019. Proof of purchase is required. Terms and conditions apply.
Fields marked with a * are mandatory
Please only use capital letters in the Captcha validation.
| Qualifying Products | Code |
| --- | --- |
| GROHE Red Duo M Boiler L Spout Chrome | 30341001 |
| GROHE Red Duo M Boiler L Spout Supersteel | 30341DC1 |
| GROHE Red Duo L Boiler L Spout Chrome | 30340001 |
| GROHE Red Duo L Boiler L Spout Supersteel | 30340DC1 |
| GROHE Red Duo M Boiler C Spout Chrome | 30058001 |
| GROHE Red Duo M Boiler C Spout Supersteel | 30058DC1 |
| GROHE Red Duo L Boiler C Spout Chrome | 30328001 |
| GROHE Red Duo L Boiler C Spout Supersteel | 30328DC1 |
| GROHE Red Mono M Boiler L Spout Chrome | 30329001 |
| GROHE Red Mono M Boiler C Spout Chrome | 30060001 |
| | |
| GROHE Blue Home Duo L Spout Chrome | 31454000 |
| GROHE Blue Home Duo L Spout Supersteel | 31454DC0 |
| GROHE Blue Home Duo C Spout Chrome | 31455000 |
| GROHE Blue Home Duo C Spout Supersteel | 31455DC0 |
| GROHE Blue Home Duo U Spout Chrome | 31456000 |
| GROHE Blue Home Duo U Spout Supersteel | 31456DC0 |
| GROHE Blue Home Mono C Spout Chrome | 31498000 |
| GROHE Blue Home Mono C Spout Supersteel | 31498DC0 |