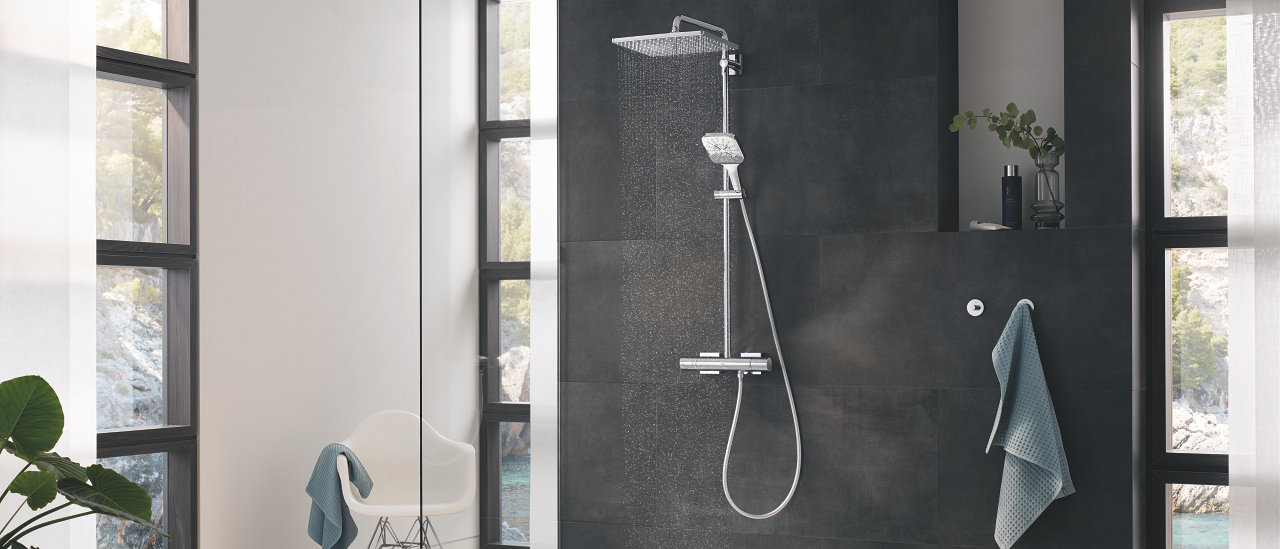 Rainshower System
Bringing together the essential elements of a greatshower.
Upgrade your shower with the superior quality and functional excellence of the GROHE Rainshower system to create your personal comfort zone. With their refined interior technologies, the shower heads provide a balanced water flow from all nozzles, for unparalleled comfort with all spray patterns. Protecting your skin from scalding is one of our priorities at GROHE. This is why we have integrated a stop button so the water temperature cannot be turned up too high, which is especially important for children. With its precise thermostats, this shower system instantly delivers water at the desired temperature, keeping it constant without unpleasant fluctuations. All the thermostats are equipped with a cooling technology, so they are always safe to touch. Fully indulge in a luxurious, relaxing shower with this feature-packed design and the option of reducing your water consumption by up to 50% thanks to the GROHE EcoJoy technology.
Find Your Showroom
Experiencing
Wide Choice of Designs
For maximum showering comfort and enjoyment choose a GROHE Rainshower® system. Our wide choice of feature-packed designs ensures there's a system to suit all personal showering habits, style preferences and installation scenarios.
For the ultimate experience, Rainshower® systems with adjustable body jets deliver tailor-made showering for all family members – whatever their height.