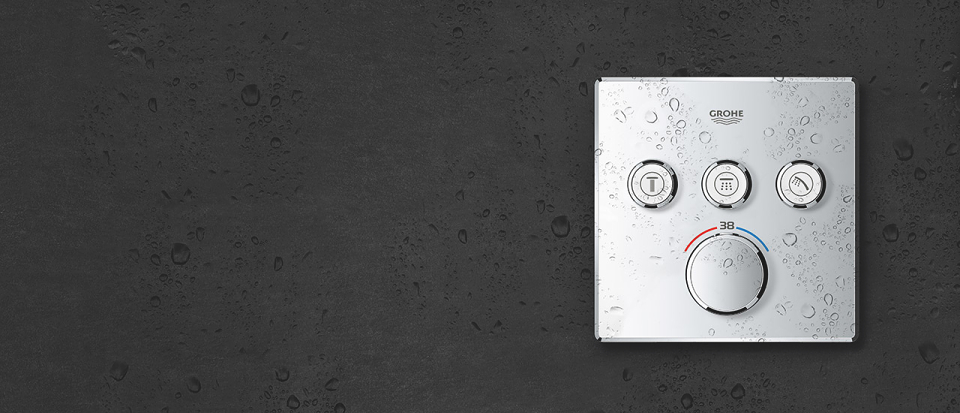 THE HIDDEN ADVANTAGES OF CONCEALED TECHNOLOGY
Streamline your shower space with GROHE SmartControl Concealed, the sleek, intuitive system that lets you control your shower with a simple push-turn action. With its flat, streamlined design SmartControl Concealed offers precise control while being easy-to-clean, and it combines with a wide range of head and hand showers to give you all the design flexibility you need.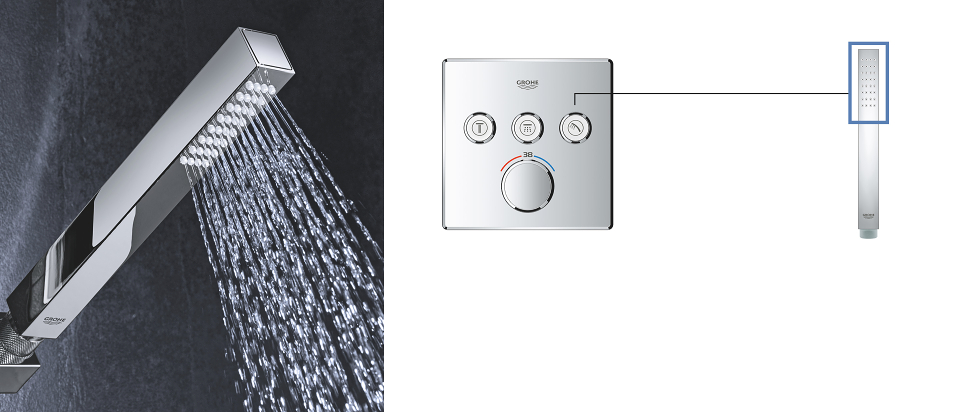 FOR MAXIMUM FLEXIBILITY: THE HAND SHOWER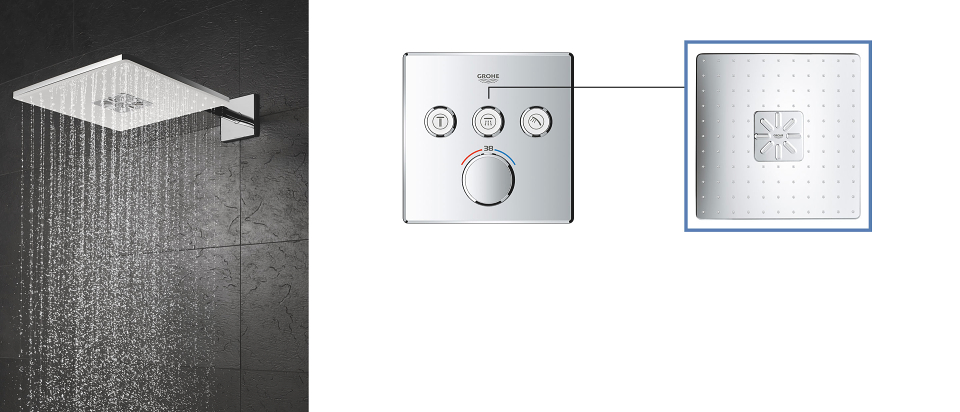 DISCOVER A UNIQUE LEVEL OF RELAXATION: THE GROHE PURERAIN SPRAY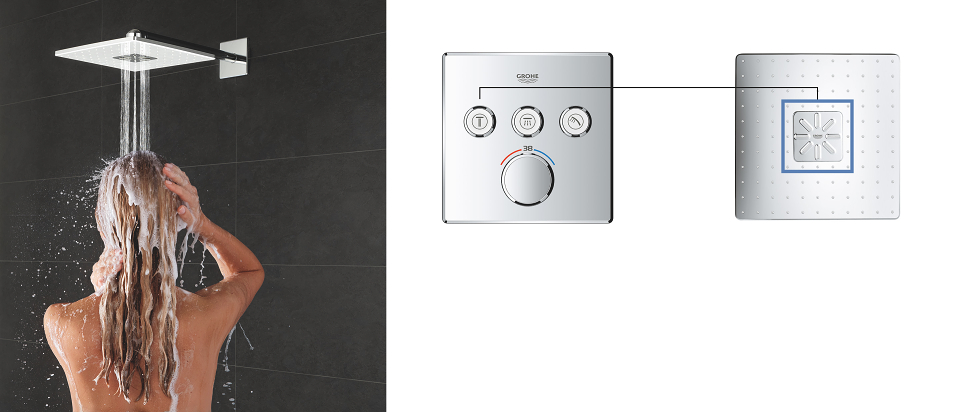 POWERFUL AND REVITALISING: THE GROHE ACTIVERAIN SPRAY
Experiencing SmartControl Concealed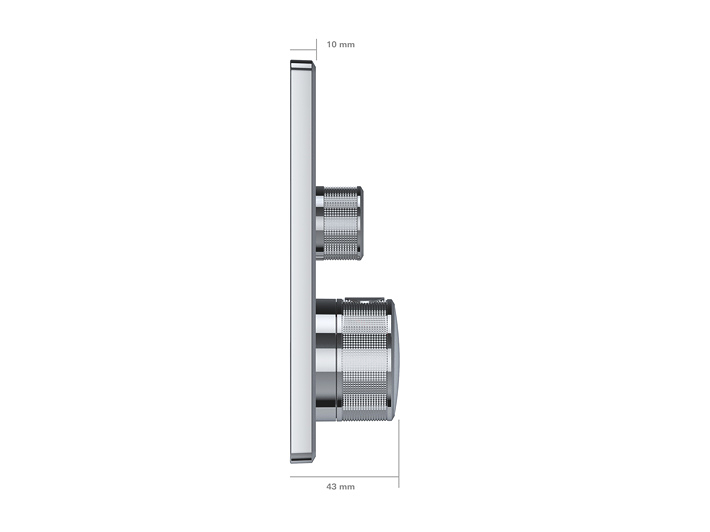 Sleek, seamless design
With a wall plate measuring just 10mm deep and controls extending only 43mm from the wall, SmartControl Concealed packs a lot of performance into a small space. SmartControl Concealed also has an integrated sealing system, meaning no water can get in behind the wall.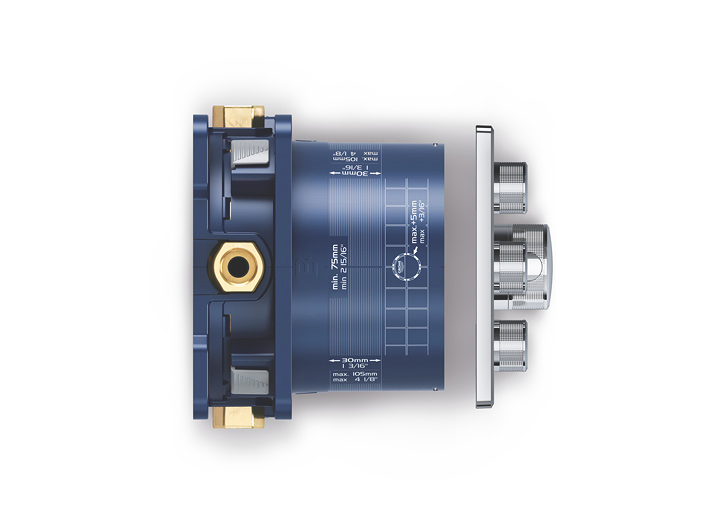 Maximum, flexible control
With SmartControl Concealed you can control up to three showers with just one trim. Your SmartControl Concealed – installed with a GROHE Rapido SmartBox – can have up to three SmartControl valves plus thermostat or mixer in one trim, letting you control two head shower sprays and a hand shower all in one place.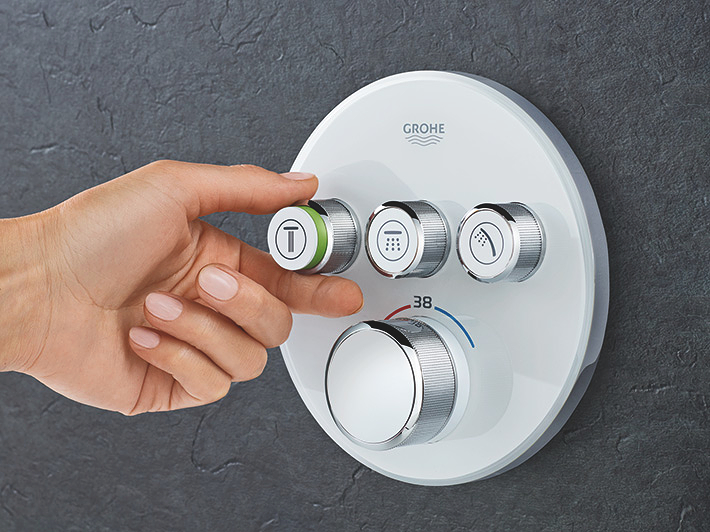 Integrated volume control
Switching between shower heads or combining them isn't the only thing made easy by SmartControl Concealed. The integrated volume control offers precise control of water flow. Pushing the button starts or stops the flow, and a simple turn alters the volume. With easy to read, intuitive symbols it couldn't be easier to operate.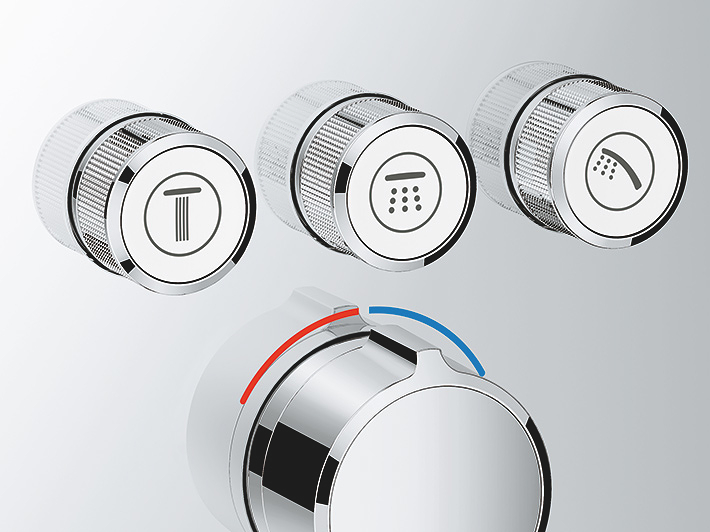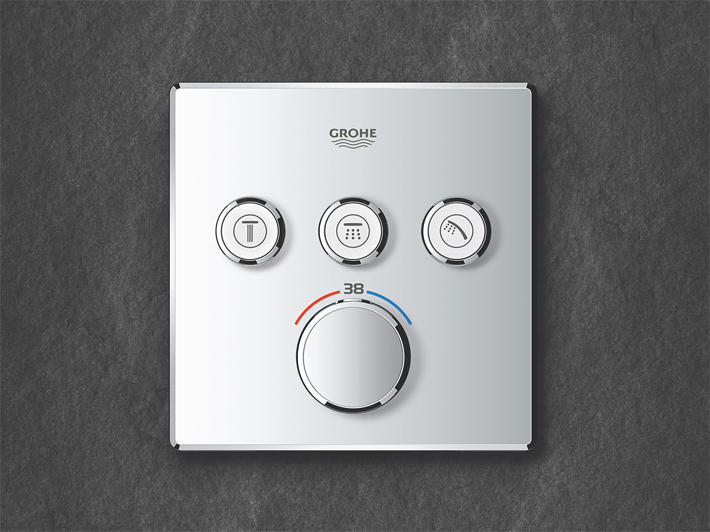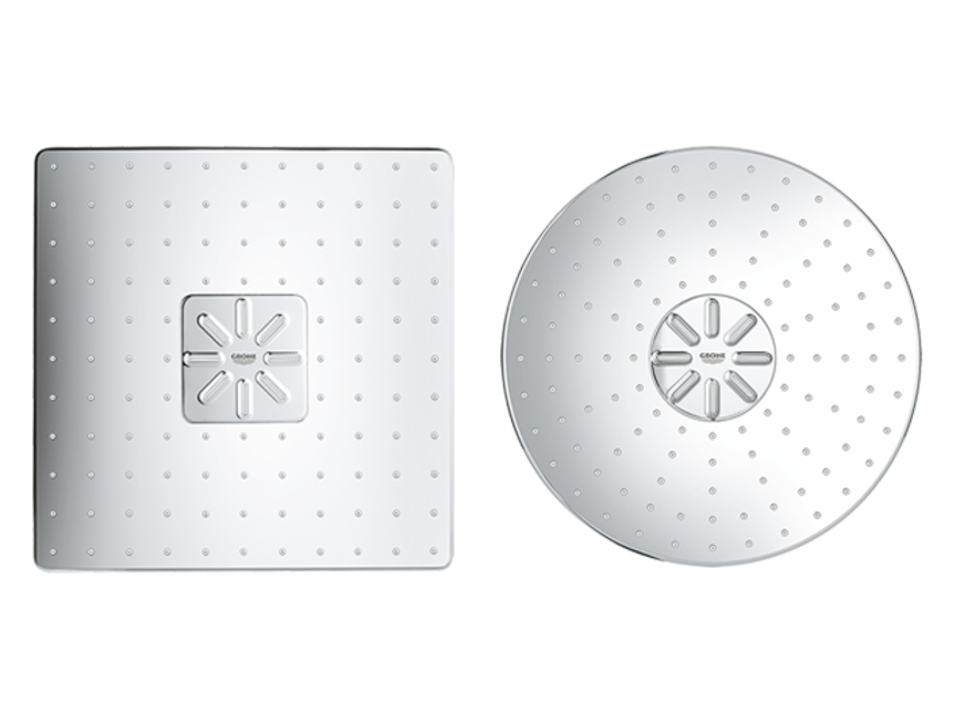 GROHE SmartControl features at a glance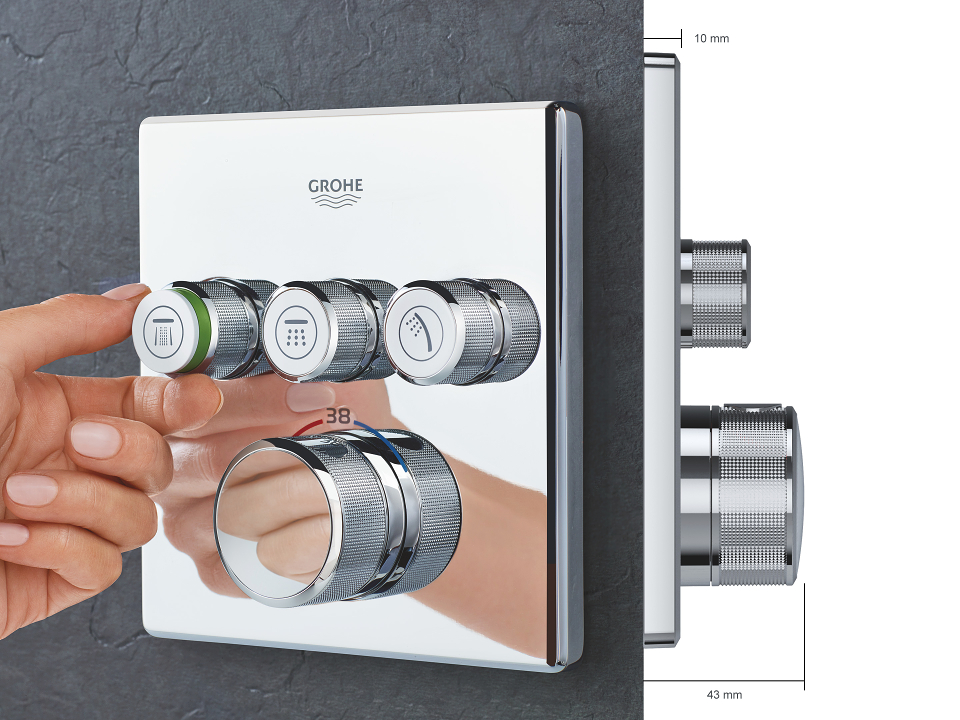 Slim design, overall outreach only 43 mm, all wall plates only 10 mm high
Perfect shower experience with GROHE SmartControl: push, turn, shower
All trims subsequently adjustable by up to 6° Retrofit back-flow protection combination for bath fill and overflow unit
Small plates, all trims only 158 mm square or in diameter
QuickFix System for force-fit fixation and hidden fixation and sealing
Available as a mixer and thermostat
38 °C SafeStop Button (thermostat)
Thermostats come with optional 43 °C temperature limiter
All plates are metal made
Thermostat with GROHE TurboStat technology ensuring constant shower temperature for comfort and safety
Retrofit service stops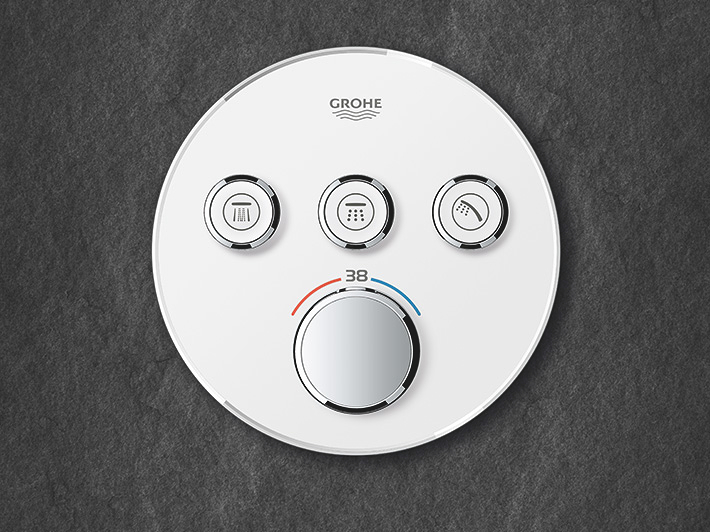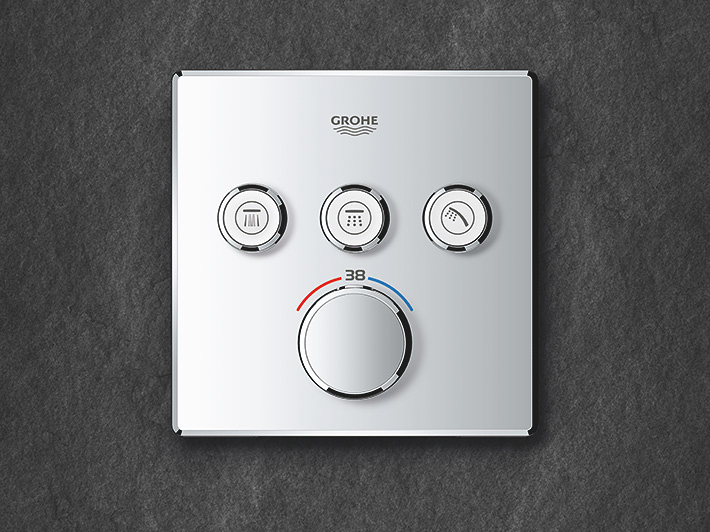 Varied design options
Everything about SmartControl Concealed is tailored to creating a great shower – even the aesthetics. It comes in two different shapes – round or square – and two different finishes – a chic chrome and a thoroughly modern moon white acrylic glass.
Product range
Find out more about GROHE Rapido SmartBox System