<strong>'Pull Out All The Stops' Promotion</strong> <br> Upto €50 cashback on selected GROHE pull out taps
Get some power behind your daily tasks with GROHE's range of professional and pull-out sprays. Enjoy an increased operating radius for maximum convenience, and on many models, you can also switch between two spray functions for even greater flexibility.
The GROHE EasyDock function with glideflex hose ensures the spray docks smoothly back into position, and on some professional spray models GROHE EasyDock M uses a magnet to guide the spray head back into place effortlessly, every time.
When your work is done enjoy the easy-clean advantage of GROHE's SpeedClean feature - available on all pull-out sprays with two spray functions - that lets you clean limescale from the head with a simple sweep of your finger.
Purchase your qualifying GROHE pull out spray tap from a GROHE retailer and complete the cashback claim form below.
Offer on purchases made from 1st September 2017 until the 31st December 2017. All claims must be made by January 31st 2018. Proof of purchase is required. Terms and conditions apply.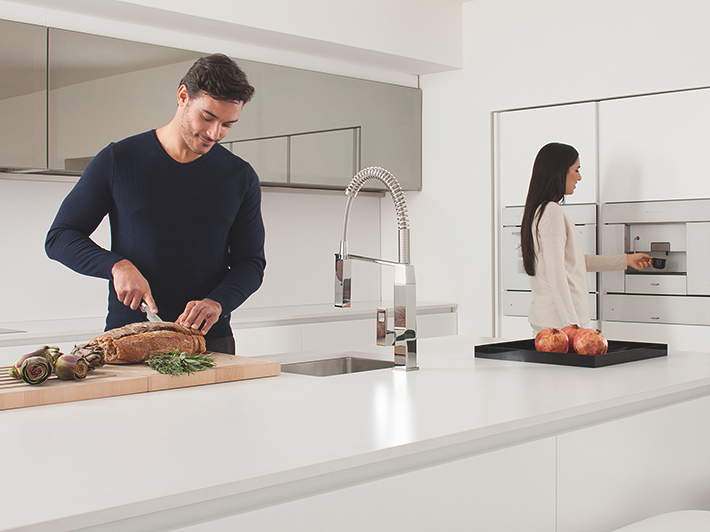 Make a statement with GROHE's Cubist masterpiece. The Eurocube's strong lines and solid, architectural shape is perfect for modern kitchens where design is at the forefront.
From the lever's cut-out detailing to the new professional-grade features, this is a tap for those who are both style conscious and serious about their cooking.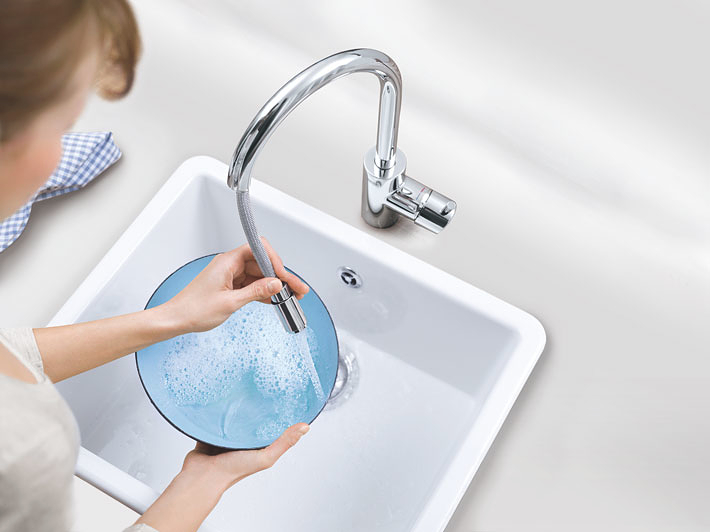 Making distinctive design accessible for all, Concetto is ideal for kitchens where style and practicality go together. Design-lovers will adore the distinctive silhouette based on a series of cylinders, while the hard-working cook will appreciate the fingertip control and great performance.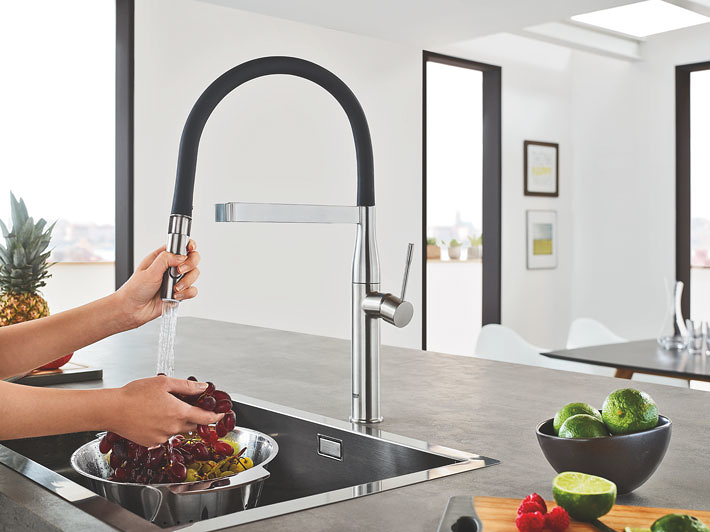 Enhance your kitchen's performance with the sleek, architectural Essence Professional tap, designed to bring professional features and convenience to your scheme. From the 360 degree turnable spring arm to the effortless EasyDock M magnetic system for the dual-spray metal head, every detail has been designed with ease of use in mind.
Featuring GrohFlexx technology, the hygienic santoprene hose is not only easy-to-clean but also comes in a choice of 11 colour finishes to harmonise with any kitchen.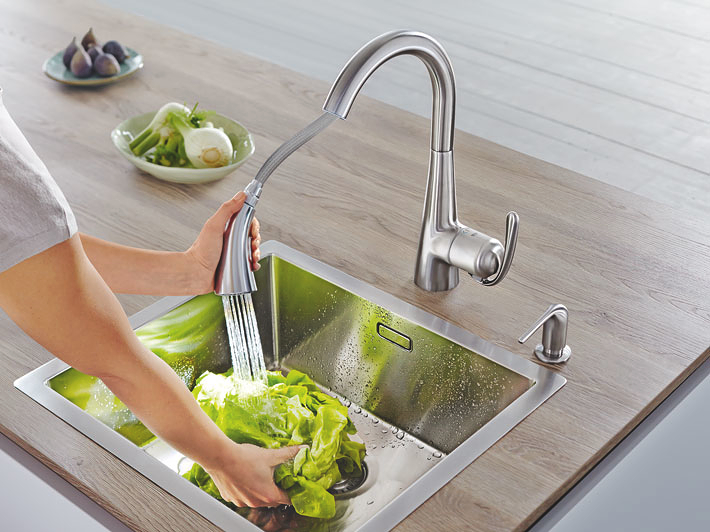 GROHE's Zedra features a dual-control button with locking feature, which lets you switch effortlessly between spray modes and a SpeedClean nozzle makes removing limescale a breeze. Choose between a high-gloss GROHE StarLight (chrome finish), a matt SuperSteel finish or the anti-bacterial properties of RealSteel for a tap that is as durable as it is beautiful.
Qualifying Products
| Range | Description | CODE | Colour | Cashback |
| --- | --- | --- | --- | --- |
| Eurocube | Sink Mixer | 31395000 | Chrome | €35 |
| Eurocube | Sink Mixer | 31395DC0 | Supersteel | €40 |
| Concetto | Sink Mixer- High Spout | 32663001 | Chrome | €20 |
| Concetto | Sink Mixer- High Spout | 32663DC1 | Supersteel | €30 |
| Essence | OHM sink profi-spray | 30294000 | Chrome | €40 |
| Essence | OHM sink profi-spray | 30294DC0 | Supersteel | €50 |
| Zedra | Sink Mixer | 32294001 | Chrome | €25 |
| Zedra | Sink Mixer | 32294SD1 | Supersteel | €35 |
| Zedra | Sink Mixer | 32553000 | Chrome | €35 |
| Zedra | Sink Mixer | 32553SD0 | Supersteel | €40 |
| Zedra | Sink Mixer | 32296000 | Chrome | €30 |
| Zedra | Sink Mixer | 32296SD0 | Supersteel | €40 |
TERMS AND CONDITIONS
1. Eligibility
1.1 GROHE offers the GROHE Pull Out All The Stops cashback promotion (the Promotion) to you if you make a purchase of a qualifying GROHE pull out tap from a retailer located in the United Kingdom (UK) and Republic of Ireland (ROI) participating in the Promotion (a Participating Retailer).
1.2 Before making a claim, please check with your retailer and confi rm it is a Participating Retailer.
1.3 To claim your cashback under the Promotion you must purchase, or have purchased,the Product from a Participating Retailer, in a single transaction between 1st September 2017 to 31st December 2017, inclusive (the Promotional Period).
1.4 All other products and retailers are excluded. Purchases of the Product made outside the Promotional Period, or purchases of a second hand, refurbished or reconditioned, or counterfeit Product, will not qualify.
1.5 You must be aged 18 or over and must be resident in the UK or ROI. By submitting a claim, you are deemed to have agreed to be bound by these terms and conditions.
1.6 The Promotion may not be used in conjunction with any other offer or promotion.
1.7 Claims are limited to one per household. You may not submit a claim under the Promotion if you are an employee of or otherwise associated with GROHE, its holding or subsidiary companies or its agents, and GROHE will disqualify any such claims.
2. Making a Claim
2.1 To claim your cashback, please register your purchase using the online form at www.grohe.co.uk/en_gb/ pullout-cashback-promotion.html and upload your full purchase receipt showing the date of purchase (not deposit receipt). You must wait 28 days from the date of purchase BEFORE submitting your online claim. All claims must be submitted by midnight on 31st January 2018. Any claims submitted after this time or outside of the closing date, will not be accepted.
2.2 If you are unable to register your purchase online, you can send a copy of your full purchase receipt to the address at section 4.5, complete with the printed pdf of your online application. We must receive your claim form by 31st January 2018.
2.3 GROHE does not accept any responsibility for claims that are misdirected, lost, mislaid, damaged or delayed in transit, regardless of cause, including, for example, as a result of postal failure, equipment failure, technical malfunction, systems, satellite, network, server, computer hardware or software failure of any kind. Claims by fax or telephone will not be accepted. Illegible, incomplete or altered claim forms will be deemed void, as will claim forms not completed in accordance with these terms and conditions. GROHE will not accept proof of posting or transmission as proof of receipt of claim submission.
3. Cashback
3.1 Please allow up to 28 days from the date we receive your claim form and all supporting documents, for us to process your claim and check that it meets these terms and conditions.
3.2 If you make a successful claim, you will receive the cashback amount. Upon receipt and verifi cation of your claim, we will issue you a cheque for the cashback amount. You must bank the cheque within 6 months of the date of issue. No alternative arrangement can be entered into for the cashback and we do not offer cash or payment by BACS transfer.
3.3 GROHE does not accept any responsibility if you do not present your cheque for payment.
4. General
4.1 GROHE reserves the right to withdraw, amend or replace the Promotion or these terms and conditions without prior notifi cation. In the event that unforeseen circumstances make this unavoidable, your legal rights are not affected.
4.2 GROHE reserves the right to verify the eligibility of all claims to protect itself against fraudulent, invalid or repetitive claims including, without limitation, to require you to prove that you did not return the Product within the period of 28 days from the date of delivery or purchase. Claims for returned products, bad faith or fraudulent entries or claims that otherwise do not meet these terms and conditions will be invalidated.
4.3 To the fullest extent permitted by law, GROHE shall not be liable for any loss, damage or injury of any nature howsoever caused, sustained by any claimant under the Promotion. Nothing in these terms and conditions shall exclude or restrict GROHE
s liability for personal injury or death caused by GROHE's employees or agents.
4.4 Any personal data supplied by you will be used by GROHE and its agents or associated group companies solely for the purpose of administering the Promotion and in accordance with data protection legislation.
4.5 The Promotion is administered by GROHE Limited (Company Number: 00770795), a limited company incorporated in England and Wales, whose registered offi ce is at World Business Centre 2, Newall Road, London Heathrow Airport, Hounslow, Middlesex, TW6 2SF, United Kingdom. All trade marks are owned by or licensed to GROHE. GROHE uses reasonable efforts to ensure that information it provides to you is accurate, complete and up to date. It does not represent that the information will be error-free.
4.6 The Promotion and these terms and conditions are governed by English law and are subject to the non-exclusive jurisdiction of the English courts. If you live in Scotland you can bring legal proceedings in either the Scottish or the English courts. If you live in Northern Ireland you can bring legal proceedings in either the Northern Irish or the English courts. If you live in the ROI you can bring legal proceedings in the Irish courts.
GROHE Limited - September 2017