GROHE Blue Mono Professional – add filtered, chilled, sparkling water to your kitchen
Love the taste of filtered, carbonated bottled water, but hate the hassle of buying, storing and recycling the bottles? There is a better way. The GROHE Blue Mono Professional tap sits next to your regular kitchen tap and provides instant chilled, filtered and carbonated water. Select your preferred carbonation level – still, sparkling or semi-sparkling – and take confidence from the GROHE Blue five-stage filter technology which removes undesirable substances that might cause odor or impair taste, while leaving in beneficial minerals. Plus the filter reduces the lime content of the water, extending the life of household appliances like coffee machines. The sleek design includes a high 140° swivel spout, ideal for filling tall carafes. Plus the GROHE SuperSteel matt finish is scratch-resistant for a stylish, durable surface that will last and last.
Key Features
consisting of:
GROHE Blue Minta Mono tap with filter function
monobloc installation
handle for 3 types of filtered and chilled table water
still, medium, sparkling
GROHE Long-Life finish
swivel tubular spout
swivel area 140°

flexible connection hoses

GROHE Blue Cube
270 Watt cooling unit, 230 V, 50 Hz
type of protection IP 21
CE approved
requires ventilation holes in the bottom of the kitchen cabinet
GROHE Blue size S filter, filter head with flexible adjustment
for regions with water hardness of more than 9° dKH
for regions with water hardness below 9° dKH please order activated carbon filter 40 547 001
GROHE Blue 425 g CO2-carbonization bottle
Min. recommended pressure 2.0 bar
This product includes an article which is declarated as a hazardous substance. Find more information in the safety data sheet. You can download the safety data at: www.grohe.com/safety-data-sheets/
Technical Product Information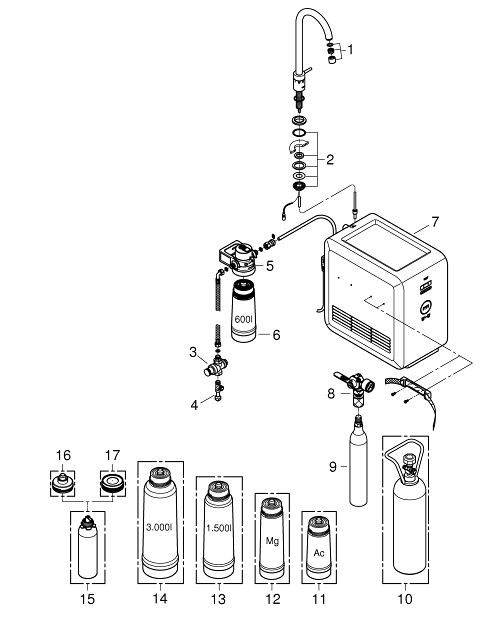 Pos.-nr.
Prod. description
Order-nr.
* Optional accessories

1

Flow restrictor

46895000

2

Screw coupling

48201000

3

Pressure reducing valve

40452000

4

Original WAS® T-piece 3/8"

41007000

5

Filter Head

64508001

6

Filter S-Size

40404001

7

Cooler and carbonizer

40554001

8

Pressure indicator

46717000

8.1

CO2 adapter

40962000

9

Starter kit 425 g CO2 bottles (4 pieces)

40422000

10

Starter kit 2 kg CO2 bottle

40423000*

11

Activated carbon filter

40547001*

12

Magnesium+ Filter

40691001*

13

Filter M-Size

40430001*

14

Filter L-Size

40412001*

15

Cleaning cartridge

40434001*

16

Cleaning cartridge adapter

40694000*

17

Cleaning cartridge for adapter set

40699000*
All new 2+1
GROHE will allow guarantee services to the end consumer in accordance to the terms and conditions set out below for all products supplied to the end customer under the GROHE brand, which are marked as GROHE 2 years plus 1 year Manufacturers' Guarantee.