210 shower system: safety and comfort in your bath and shower
Enjoy unparalleled comfort in your bath and shower with this powerful combined system. To create your personal comfort zone in the shower, swivel the head shower to your preferred angle and indulge in the sensation of soft rain on your skin or, for a more dynamic focused spray, switch to the sleek hand shower. Whether bathing or showering, the precise thermostat always delivers water at the desired temperature, with the SafeStop button protecting users – especially children – from scalding. Thanks to several innovative safety features, the outer surfaces of shower heads and thermostat will not heat up, so they are always safe to touch. Both shower heads are finished with a dazzling chrome coating and crafted with flexible silicone nozzles that prevent any build-up of limescale and make for easy cleaning. Thanks to the GROHE EcoJoy technology, you can fully indulge in your shower while reducing your water consumption by up to 50%.
Key Features
consisting of:
horizontal swivable 450 mm projection shower arm
exposed thermostatic showerwith Aquadimmer function
allows change between:
Head shower Rainshower Cosmopolitan 210 (28 373 000)
material: metal
with ball joint
rotation angle ± 15°
bath inlet
separate diverter for hand shower Sena (28 341 000)
adjustable height via gliding element (12 140 000)
metal shower hose 1750 mm (27 178)
GROHE Water Saving 9.5 l/min flow limiter
GROHE TurboStat compact cartridge with wax thermoelement
GROHE SafeStop safety button at 38°C ( calibration required )
GROHE SafeStop Plus optional temperature limiter at 43°C included
GROHE CoolTouch
GROHE DreamSpray perfect spray pattern
GROHE Long-Life finish
SpeedClean anti-limescale system
Inner WaterGuide for a longer life
suitable for instantaneous heaters from 18 kW/h
minimum flow rate 7 l/min.
Technical Product Information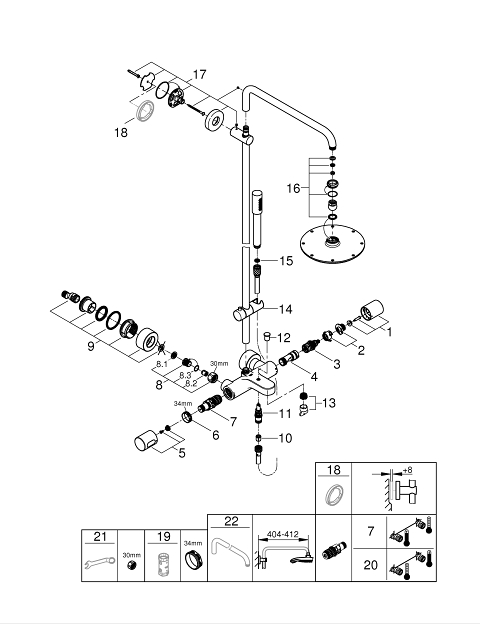 Pos.-nr.
Prod. description
Order-nr.
* Optional accessories

1

Aquadimmer handle

47804000

2

Temperature limiter

47723000

3

Aquadimmer

12433000

4

Water flow

47751000

5

Temperature scale handle

47811000

6

retaining ring

47743000

7

Thermostatic compact cartridge 1/2"

47439000

8

Non-return valve

47189000

8.1

Dirt strainer

0726400M

8.2

Non-return valve

08565000

8.3

O-Ring Ø17 x Ø2

0305500M

9

S-union

12693000

10

Non-return valve

08565000

11

Diverter

65655000

12

Diverter knob

65648000

13

Flow restrictor

13926000

14

Sliding piece

12140000

15

Strainer

0700200M

16

Inlet valve assembly

45933000

17

Outlet shower holder

48279000

18

Spacer

27180000*

19

Socket spanner

19332000*

20

GROHE TurboStat cartridge 1/2"

47175000*

21

Special spanner

19377000*

22

Shower arm for shower systems

14047000*
Products and accessories for the installation