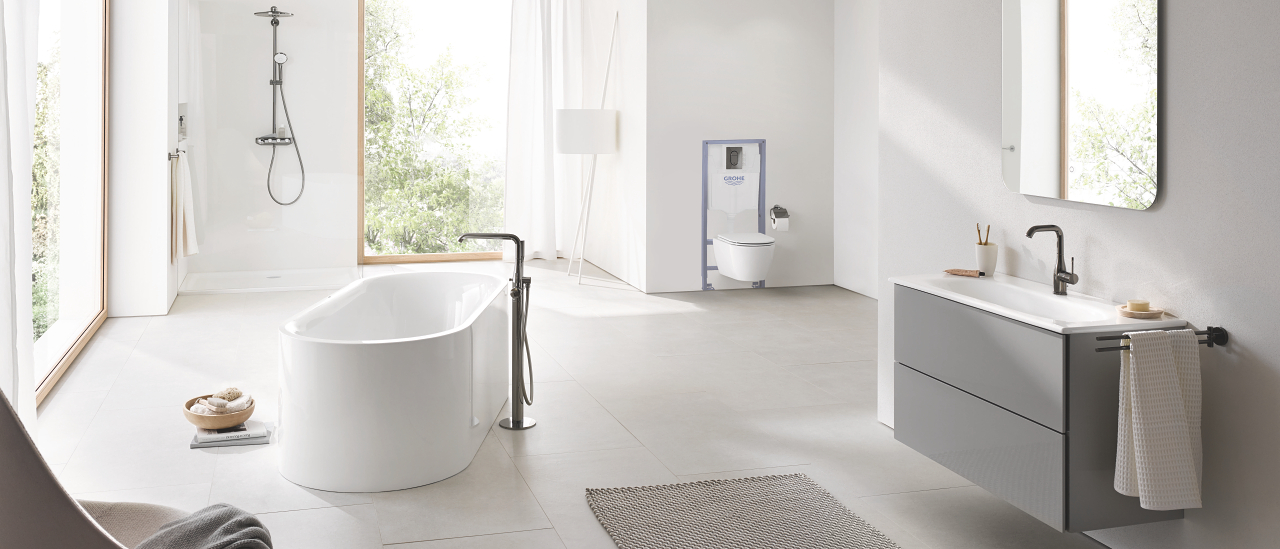 Rapid SL
First-class installation system offering superior functions and features.
The Rapid SL system gives you the freedom to design your ultimate bathroom by providing a secure and quick method of installing wall-hung basins, bidets, urinals and WCs. Available in three different installation heights, each frame comes pre-assembled with sanitary ware fixings and is subject to stringent testing – our WC frames are tested to hold 400kg.
Find Your Showroom
Experiencing
Sanitary Systems - Inspired Solutions for Sanitary Ware
Create a streamlined contemporary bathroom with our range of concealed installation and flushing systems.
Lifestyle changes and technological advances have transformed the bathroom from a purely functional space into the most indulgent and exciting room in the house. Our desire to create a space that is both relaxing and hard working has led us towards more streamlined bathing spaces, where only the beautiful and key pieces are on show. Our range of sanitary systems allows you to create the bathroom of your dreams, by offering a choice of quick and secure ways to fix wall-mounted sanitary ware and a number of advanced flushing solutions.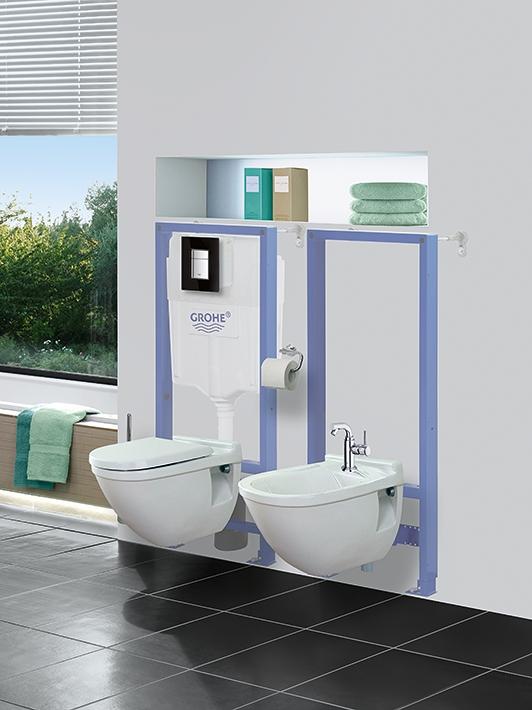 Contemporary spaces
Wall-hung sanitary ware lends an up-to-the-minute contemporary look and is now the preferred choice of style-conscious homeowners, supplanting the cumbersome pedestal basins and close-coupled WCs of old. Visually, even the smallest of bathrooms will appear larger because the floor area is clear; and with no awkward corners to trap dirt, cleaning is quick and easy.
Choice and flexibility
Whatever the size and shape of your bathroom, with Rapid SL you're no longer restricted to four walls. Thanks to our versatile frame system, the layout and design choices for your new bathroom are endless – the only limit is your imagination. Mid- and full-height walls can be introduced not only to 'zone' wet and dry areas but to provide additional space for basins and bidets, while our corner solutions allow you to utilize tight spaces. Concealed WC cisterns are ideal for installation with a back-to-wall toilet pan in furniture or in a cavity.
Design and technology
As with all our products, Rapid SL offers a host of other benefits. Our concealed cisterns are unbelievably quiet, and this is enhanced when the cistern is fixed to an installation frame rather than the wall. They can be fitted with either dual or single flush plates designed to complement our brassware collections – choose a dual flush model and you can save water by flushing with a reduced water volume.
Simple installation
Whether you are planning a new project or modernising your existing bathroom, our Rapid SL frame system ensures hassle-free bathroom installation. Frames can either be built into stud walls or placed in front of a brick or stud wall – so there's no need to spend time and money hacking off old tiling. The frame is simply secured in place during the construction or refurbishment of your bathroom and concealed behind a wall.